You may be tempted to reach for your vape when you are feeling down, but vaping is not an effective way to cope with sadness or depression.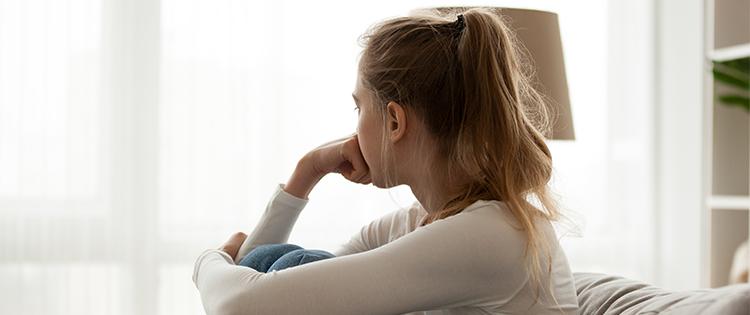 Sadness is a common emotion that can be triggered by ordinary life circumstances like disappointments, challenges, or loss. Everyone has down days and times when they feel sad. If feelings of sadness are extreme, last for a long time, or interfere with your daily activities and/or relationships, you may be experiencing a depressed mood.
Even if you rarely felt sad before quitting vaping, you may feel increased sadness, irritability or sluggishness after quitting. These mood changes are usually temporary while your body adjusts to being without nicotine. When you're having a rough day, remember why quitting vaping will be better for you in the long run.
You can learn to manage your feelings without reaching for your vape. Try these ideas – some may work better than others, so find the ones that work for you.
Get Active
Any kind of physical activity can help boost your mood. For example, taking a walk, going to the gym, or playing Frisbee with friends. If you need to, start small and build up over time. This can be hard to do because feeling down can drain your energy, but making the effort will pay off. It will help you feel better in the long run.
Stay Busy
Sadness and negative thoughts tend to creep up when you're bored and doing nothing. Create a schedule of activities that you will do every day. Sticking to a daily routine can help you stay busy and avoid getting caught up in negative moods.
Do Something You Enjoy Each Day
Find ways to incorporate fun activities into your daily life. Small things—like watching your favorite show or listening to music—add up and can help your mood. Choose an activity that you really enjoy but haven't done in a while, or try something new that you've always wanted to do.
Talk With Friends and Loved Ones
Getting support from the important people in your life can help your mood and make a big difference as you quit. They can be key to helping you feel better. Focus on spending time with people who make you feel good about yourself and want you to succeed in staying vape-free.
Do Good
Small acts of kindness, like letting someone else go ahead of you in line, picking up litter, or giving someone a compliment, can boost your mood.
Accept Life's Ups and Downs
Life is full of twists and turns. It helps to understand that there will be good days and bad days.
Look Out for Signs of Depression
It's normal to have ups and downs in your mood as you quit vaping. But if you are feeling extreme sadness or mood changes, you may need help from a mental health professional. You may feel like the sadness is lasting too long or won't go away. Don't ignore these feelings, especially if a doctor has ever diagnosed you with depression. Take a quick quiz to find out if you have signs of depression. If you become depressed or are having extreme sadness, let a friend or family member know, and think about talking to your doctor.
If you need help now:
Text the Crisis Text Line to talk with a trained crisis counselor via text message at any time of day or night by texting TALK to 741741. Counselors are trained to address any serious problem you may be having.
Chat with a National Suicide Prevention Lifeline counselor at https://suicidepreventionlifeline.org/chat/.
Call the 24/7 National Suicide Prevention Lifeline at 1-800-273-TALK (8255) or 1-800-SUICIDE (1-800-784-2433) for free, private help, or dial 911.